Year 3 Superstar Work
This will be where we will post 'Superstar' pieces of work which some of our children from our class have completed. So, if you have any work or achievements that you would like to see here please email to me (Mr Sanders) and I will post them here.
y3@beacon-ce-primary.devon.sch.uk
One of your class mates worked really hard to find different angles around the house. Looks like the worked hard and had fun, well done!
Some awesome photos of another member of our class Home Learning. Her family have had their own Lockdown Awards, which I think is a really lovely idea. I wonder what awards you could've won in your households.
One of your awesome classmates has been working really hard at home with her family. She has particularly focussed on her Maths work. Also look at her Hand Stand, it is much better than mine!
Oscar has completed another quiz for his friends to have a go at. I wonder how many you got correct?
Look at some of the activities one of your classmates has been up to. He has done a wide variety of exciting activities. His football team have also been trying to raise money by running the equivalent distance from Exmouth to Borussia Dortmund.
Have a read of Donovan's Daily newspaper! Great work Don, you have clearly worked very hard on this piece of work and should be very proud. I can't wait for the next copy to be sent in!
Look at one of your classmates who has absolutely smashed her handstand. It is much better than my attempt, I wonder who else can do better than me?
Our friend has been working really hard at home. Look at some of the fantastic work him and his family have been doing. Planting seeds and making his own workout to name just a few. Keep up the great work.
Donovan has been working hard this afternoon on his Mindfulness activities. He has clearly been working hard and thought carefully about himself.
Look at the fantastic project that one of our class members has been completing with his younger brother. As you can see they have put a lot of effort into it and created some awesome work!
Andrei has worked really hard this week, completing lots of his set tasks. I particularly enjoyed reading his song. Well done Andrei!
One of our great friends in 3S has sent in some lovely photos of their home school activities.
Some lovely photos of one of our class members enjoying their Topic work.
Look at the innovation of one of our class members! They didn't have a Hop Scotch area at home so they made their own. Well done guys, it looks very fun.
Tommy has worked very hard this week, this is his brilliant Iron Age presentation. He completed the research independently and should be very proud of what he has achieved.
Donovan has worked really hard and completed his French task. As you can see he showed his passion for Buses, well done Donovan it looks great!
Tommy and Oscar have created word searches for us to complete. Have a go and email me your answers, if you finish it. Great stuff boys!
Here you can see our friend has worked really hard to build his own Stone Age fort. Well done, it looks fantastic.
Please look and see some of our invented animals that have been created this week in our Topic work.
Donovan has really enjoyed spending time outside with his 'Home Learning' and built some of his own Pyramids using resources from his home. Well done Donny.
Look at your classmates attempts at beating me! They all have all absolutely smashed it and completed lots of Burpees in one minute! Top work
Look at the fantastic game our super classmate has created. Let us know how you get on if you have a go. If you have some ideas of your own game, please let us know. Thank you to the 'Super Star' who made this for us!
Look at some of the fantastic work Tommy has done this week. He has worked really hard and should be proud of his hard work. Please also see his entry into Mr Troman's Sporting hero competition.
Look at some of the fantastic work Chloe has been doing at home, as you can see she is a talented artist.
One of our classmates counting the verterbrae of her Cat during her Topic lesson this afternoon. Well done for being so resourceful.
One of our classmates has sent in some very nice photos of their home learning activities. Keep up the fantastic work!
Some more pictures of one of classmates awesome Home Learning. Another winner of a competition, with his football stadium design.
Look at one of our awesome class mates who has created a poster all about their favourite band. If you have something similar to this about your favoruite band please email them in.
Oscar has created a General Knowledge quiz for his peers to have a go at. I wonder how many you can get correct. Please email me with your scores.
We have set children the task of completing a Book Review for one of their books, which they have read during Home Learning. If the children do finish one, please email it to me and I will post it here.
Please look at Donovan's amazing poster about the Phraoah Tutankhmun.
Year 3's Class Teamwork
Some of our lovely members of Y3 have been working together and setting challenges for each other to solve. What a great idea, I wonder if anyone knows the answer to this?
Look how hard our friend has worked with his learning about Stone Age forts. He has visited local monuments , on his daily exercise, and has created a fort out of modelling materials. He should be really proud of his effort.
Look how hard our friend is working on her spellings in the picture below. She has also been working hard on her Topic work project with her family. Keep it up!
Miss Butcher will be really pleased with our year 3 member. Look at them with their great piece of work.
Look at our friends Easter hat, which they made during one of their Home Learning sessions. It looks super!
Look at some of the fantastic work our classmate has completed this week. He even won a competition for his football shirt design. Well done!
Ruby has worked hard this week and has completed a variety of learning activities. Her highlight was releasing the Butterflies her family have watched transform from caterpillars over the past few months. It was a fascinating learning experience for all.
Donovan has worked really hard this week with his work, I think he should be very proud of what he has achieved.
Please watch and enjoy the videos sent in by one of our amazing classmates. She has clearly been working very hard on this during the lockdown and should be very proud.
Look at the awesome project Donovan has done today. He has been working so hard at work his family and should be incredibly proud of all of his effort!
One of our awesome members of 3S, has worked very hard this week. Look at a variety images from their last week of Home Learning. He shoud be very proud of himself.
One of our awesome classmates has been displaying his creativity this week, as you can see he looks awesome in his armour.
A lovely picture and video of one our class mates during their hoem learning. I wonder who else has come up with some practical ways to practice their learning.
From Thursday 23rd April 2020 – Saturday 23rd May 2020, it is a very special in the religion of Islam as it is Ramadan.
Ramadan is a very important time in the Islamic calendar, and Muslims all over the world will be preparing to take part.
This year's Ramadan will be a bit different, as the coronavirus outbreak means that many people will not be able to visit friends and family, or their local mosque.
This is because of worldwide 'lockdowns' which are helping to stop the spread of the disease.
Please see how one of our members of our class celebrated the start of this special month and watch the video below for more information.
Some pieces of lovely work which Tommy has proudly sent it. Great work Tom!
Mr S Cat Smudge working really hard, helping everyone in the house with their work.
Mr S other Cat Lola trying to avoid all work, even trying to hide in boxes. I don't think she is very good at hiding.
Pets at Work
Some more pets hard at work. I wonder if you can work out who the owner of the pets are?
Martha has created her own Hieroglyphics message to our class. I wonder who can work out what she is saying in her message?
Look at the variety of activities throughout his week of home school below. Our friend has planted seeds, made rainbows and completed art activities. Well done, keep up the good work!
Martha and her family have been very kind and have bought a variety of food to donate to a Food Shelter. But before they donated it, they made great use of it with some very practical Maths. Using the objects to practice her spending of money and working out change. Well done to Martha and her family for being so kind and innovative.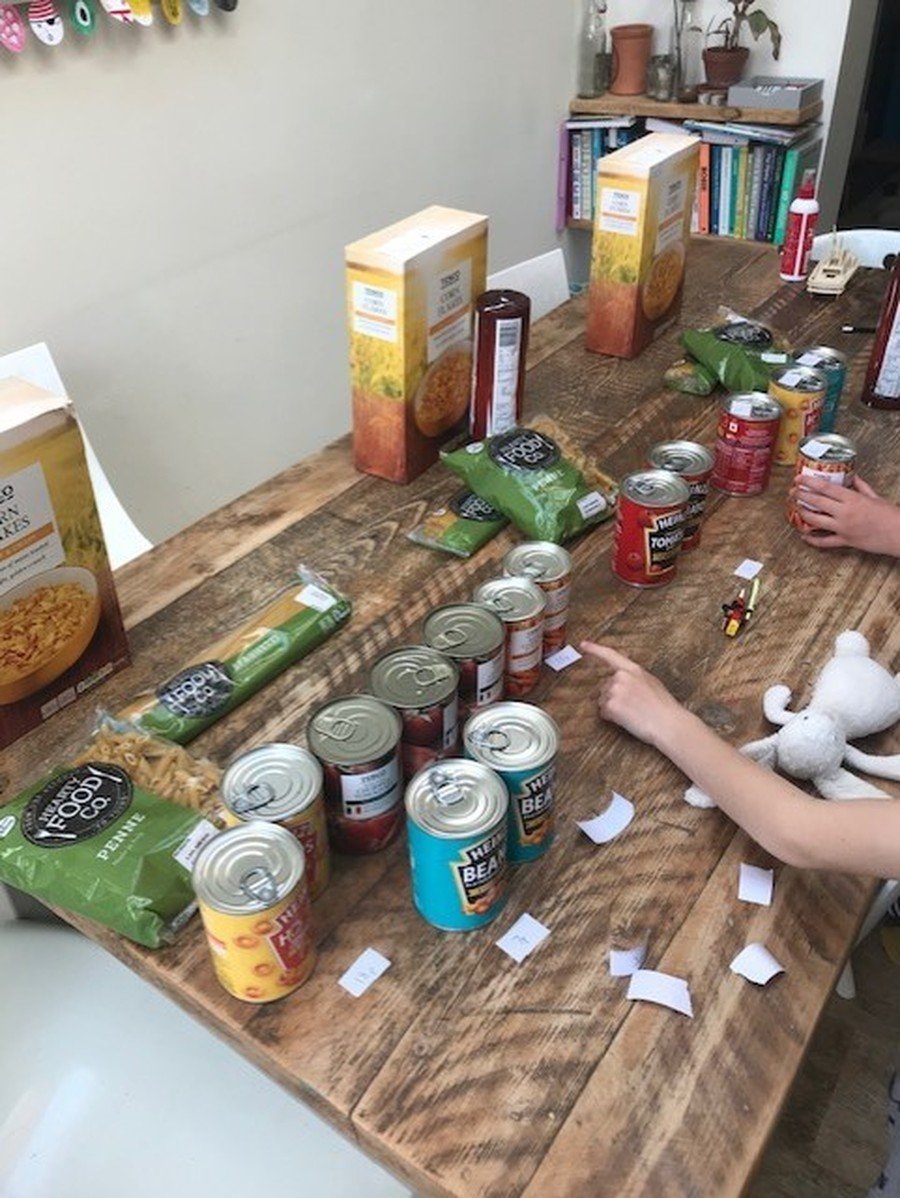 Another one of our 'Super' classmates has been working very hard and completing lots of practical learning.