Hello from everyone at The Beacon - we're missing you all. Enjoy our little film!
More fun on birthdays, thank you for sharing your photos of your special day.
Remember this? We just had an online staff meeting and someone suggested that you might enjoy seeing this again. The Staff Dance at last year's end of summer term School Concert.
Family Quiz
Thank you to Martha and Tom for sharing this family quiz. How many of the images from in and around Exmouth can you identify? Download the quiz here.
Answers will be posted after the Bank Holiday weekend.
Another birthday boy! It looks like you have lots to play with and enjoy. We're glad you had a great day!
Theatre Alibi's I believe in Unicorns by Michael Morpurgo
Back in the Autumn Term we had a visit from the amazing Theatre Alibi who performed I Believe in Unicorns by Michael Morpurgo to everyone at school - and we absolutely loved it. The show had children and adults spellbound. I'm sure your children will remember it.
The wonderful team at Theatre Alibi have allowed us to see the production again online - well worth settling down with a cocoa.
The book does contain difficult themes as it's set during World War Two in a country which was under occupation - but that is not the main message children took away from it. The message is one of a love of reading and story - the joy of being lost in a book so much that it becomes real to you. Enjoy the film.
Families have been sent the password you will need to access the film.
If you would like further information about the production, it's available here.
Theatre Alibi are producing a weekly task for children and families to enjoy. You'll find it here.
Tadpoles and Frogs Coming soon... Take a look at Mrs Bartlett's garden pond and the frogs and tadpoles in it!
Hedgehogs
If you're interested in hedgehogs and want to see some photos, watch videos of the ones in Miss Butcher's hedgehog box, or try out some hedgehog craft ideas, have a look at our hedgehog page here. There is also an appeal for any photos of any hedgehog paintings or crafts that you might make so that we can show everyone else.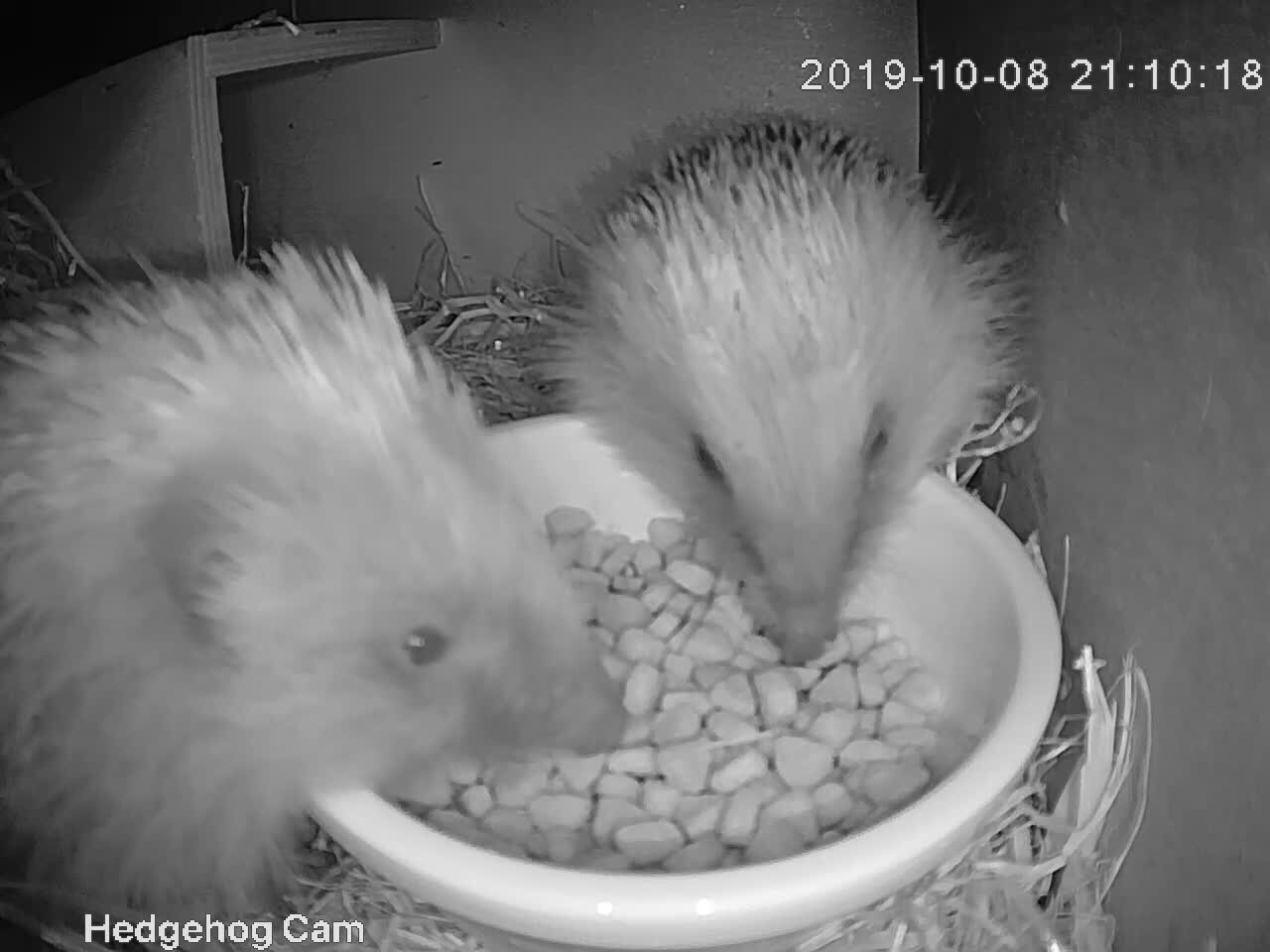 Draw a hedgehog
Have a look at our Hedgehog page and learn how to draw a hedgehog by following the simple steps shown here!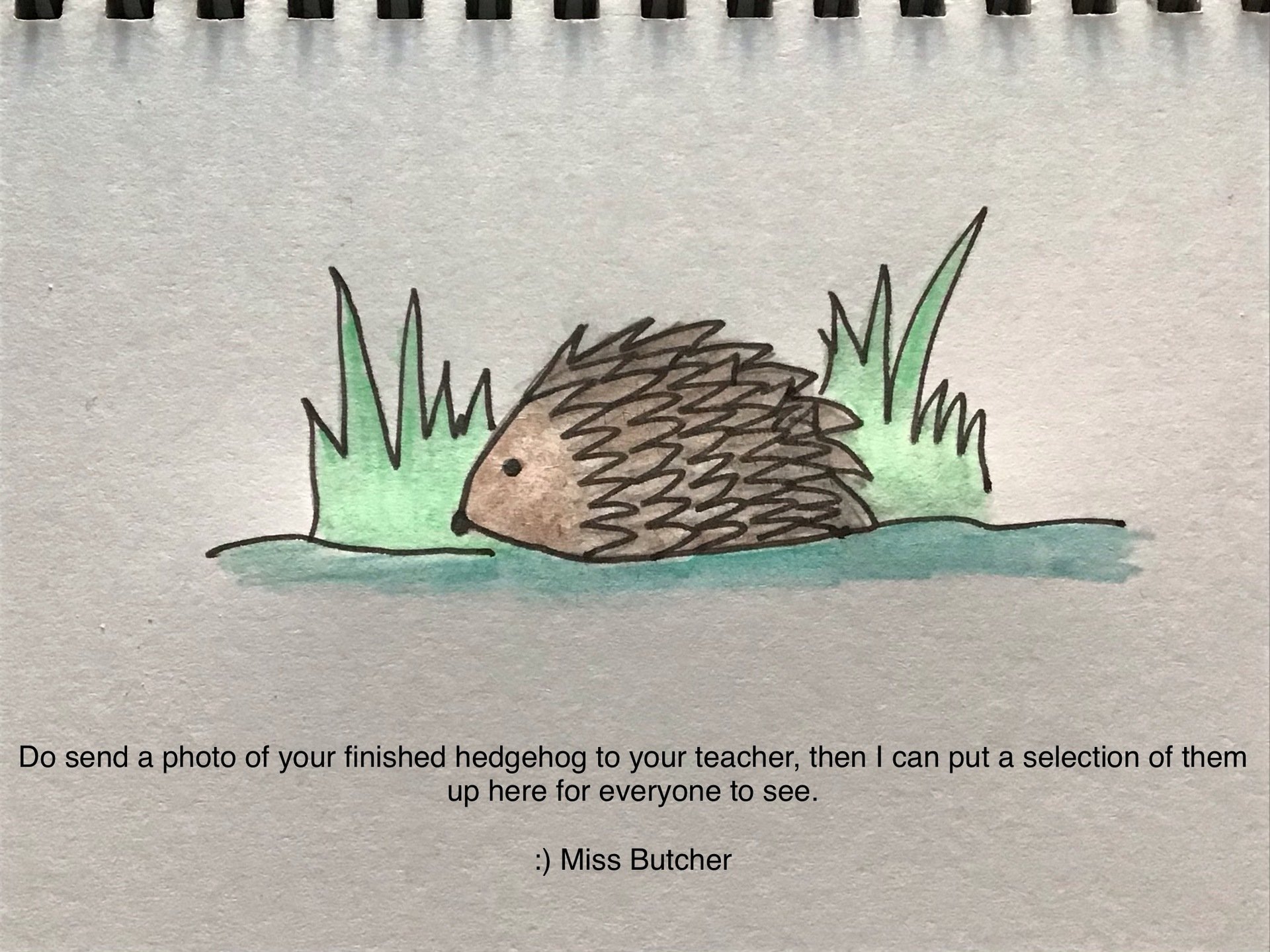 Our staff team know how to have fun too.... these photos were taken once everyone had left the playground as the school closed after our final playground performance by our Y6 children who learned songs from Matilda in one day! .
Snow White and the Seven Jockeys was due to be performed next week at the Blackmore Theater, Exmouth. Our children decided they'd put on Impromptu Playground Performances instead. To the many children who aren't in school - we miss you, but please sing along from home as you watch!
After our Year 3 and 4 children had performed, we invited everyone to join in! Living life in all its fullness (John 10:10) on our playground at pick up time! Well done everyone!
Thank you for sharing your Peace Symbol, Lucy. A super image of peace and we're all looking forward to being able to share a hug with family and friends we can't see at the moment.
We hope everyone enjoyed your 75th Anniversary of VE Day celebrations.
Happy Birthday 5 today! We're glad you had a super day. It's lovely to see such great big smiles!
More birthday celebrations - we're pleased that you had a great day!
Thank You to The Manor Hotel Pete, the Manager, deserves to be The Beacon's Star of the Week for the donations of food and soft drink items which we delivered to some of our families today. Those who received a food parcel were very grateful.
Year 2 read their Dragon Poems
Listen to some of the examples from the book and hear them read their own versions.
Sadly, I just missed a lovely photo of Y5 doing their maths in our garden today, but Mr Chalkely's looking forward to sharing ideas online.
Happy Birthday, 10 today! Fantastic t-shirt!
Lockdown Theatre at home Sophie enjoyed a complete Theatre experience at home with Mummy whilst Benjamin went to the Cinema at home with Dad! They all had tickets, ushers showed them to their seats (they did it for each other) and they enjoyed food and drink as part of the experinece. What a super idea!
Learning together as a family - great photo, thank you!
Learn the 'Friends Across The Earth' song in Greek
On our recent Erasmus visit to Greece seven children from Year 6 learned to sing this song in Greek. Let's see if some more children can learn it too.
Here are the words of the song: greek-words.pdf
Below you can hear how the song should sound when you get it right: (Sung by Mary, a teacher from Grevena).
Get Growing!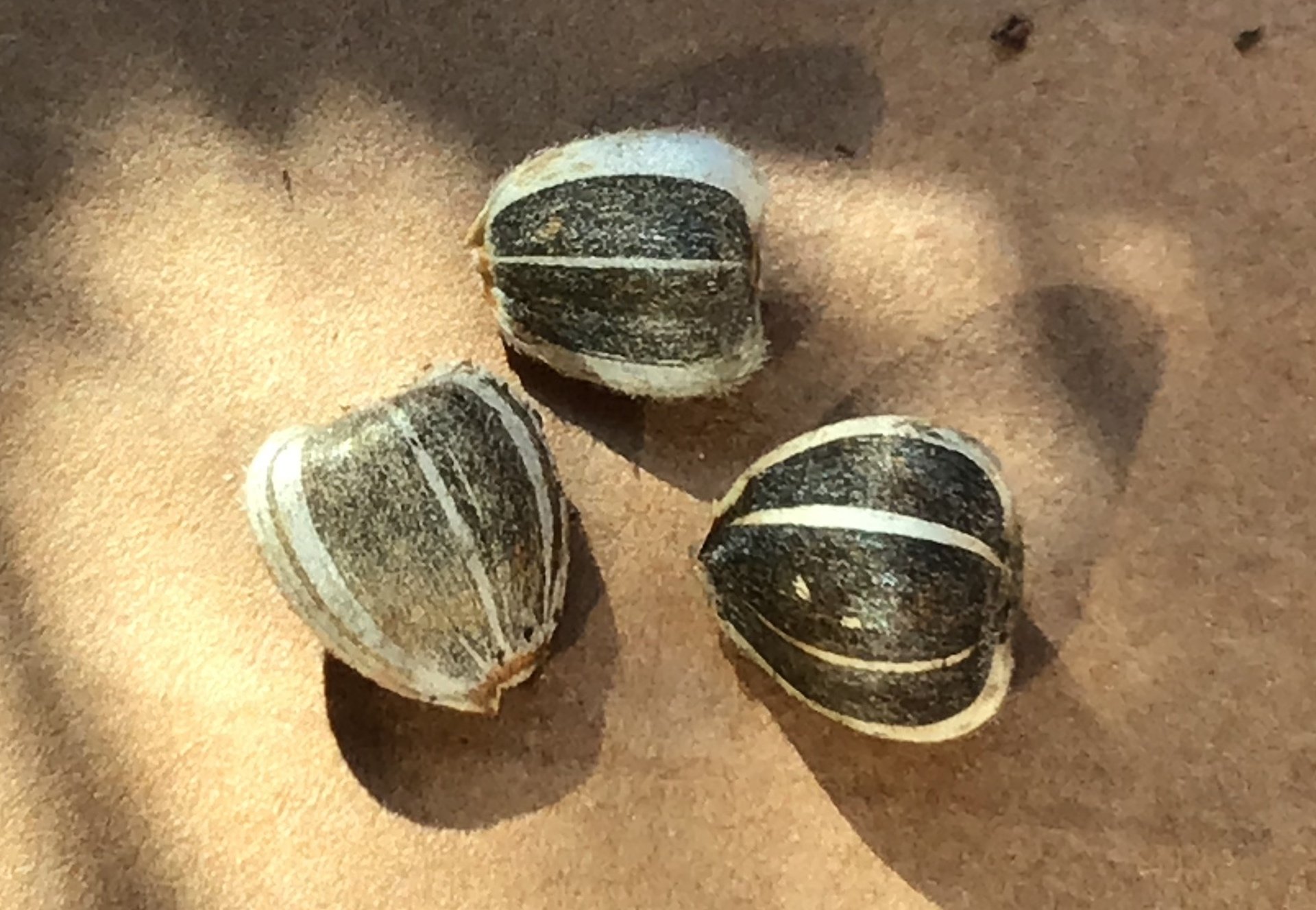 Now's the perfect time to start planting flowers and vegetables for the summer. On this video below you can see how to plant sunflowers, but you could use the same method with any seeds. (Miss Butcher used some seeds from her bird-feeder as she can't get to the shops.)