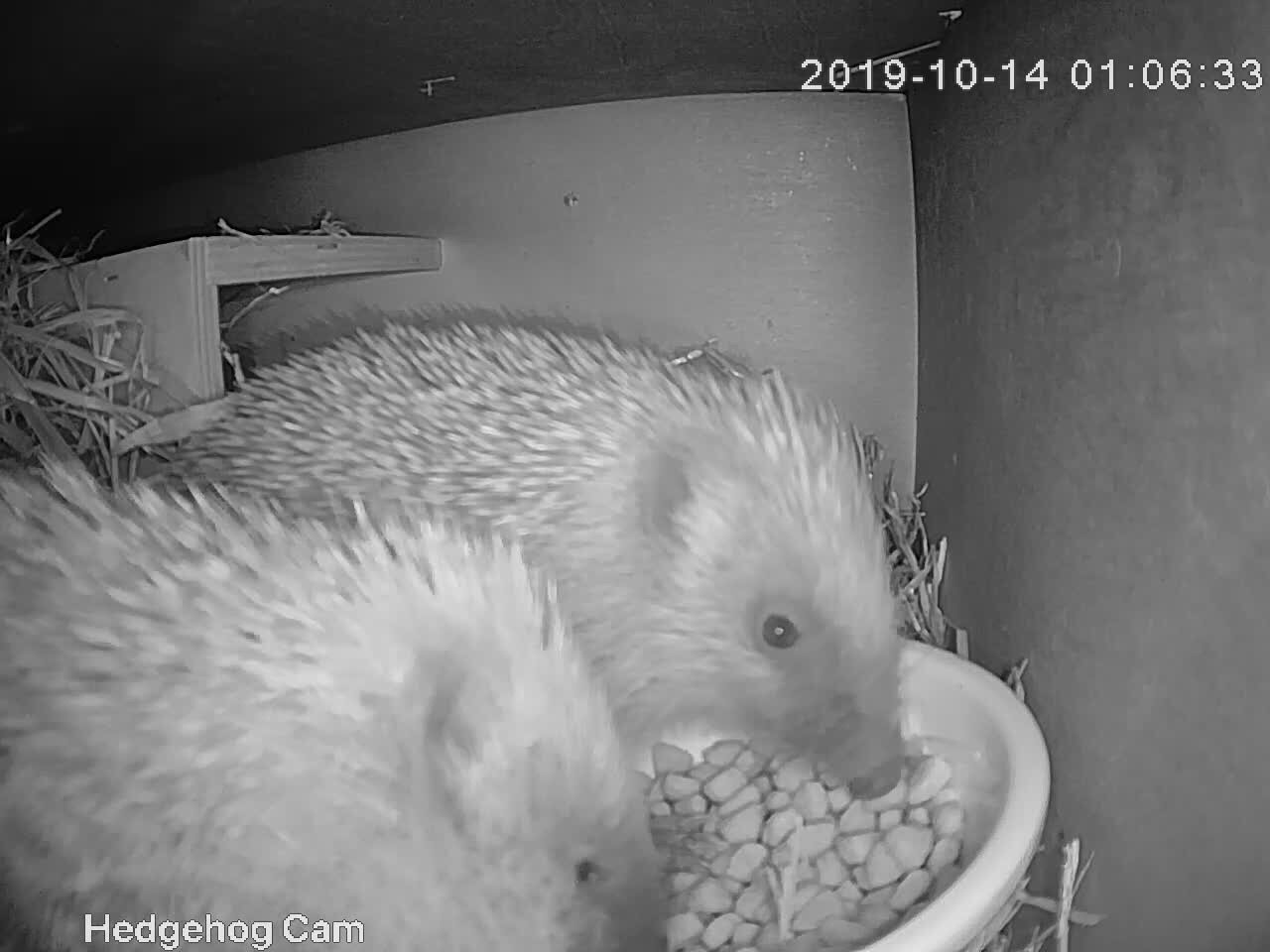 Hedgehogs!
On this page you'll be able to find out lots more about hedgehogs, and keep up to date with the ones in Miss Butcher's special hedgehog box! There will be information about hedgehogs, tips on how to spot them and what to feed them, how you can help them and craft ideas for you to do at home.
(Pictured left: two of Thelma's brothers and sisters when they were only little last October)
Check below for the latest camera footage...
WANTED!
Can you draw some lovely hedgehog pictures that we could post up here in a gallery?
Miss Butcher's hedgehog box
Miss Butcher now has a collection of hedgehog boxes after a hedgehog ran across her feet in the garden last summer. She has a 'feeding station' with a camera where the hedgehogs go to eat, and sometimes sleep. Once there were four baby hedgehogs in there at once, but there is often one little one (called Thelma!) who spends a lot of time in the box guarding the food!
Doing some cooking?
You could make some hedgehog cup-cakes, decorating them with shavings of chocolate, or bits of chocolate flakes for the spines. You could even decorate some hedgehog biscuits.Have a look online for some amazing ideas and send in pictures of what you do!
Hedgehogs
Hedgehogs used to be very common in Devon, but are now increasingly rare. Some experts think that they will be extinct by 2050, so it's really important that we look after them while we can.
Hedgehogs are shy creatures that come out at night. They often live in gardens and parks, but because they are nocturnal we often don't know that they are there. They eat lots of different things but really like eating slugs and snails, so gardeners are often really pleased when they know that a hedgehog lives nearby. They are covered in prickly spines all over their body, and although we don't often see their legs, they can run really fast when they need to!
How to draw hedgehogs: copy these simple steps to draw your own hedgehog
Hedgehog facts
Hedgehogs eat slugs, snails, beetles, earthworms and other invertebrates

Hedgehogs have an average of 7000 spines on their backs

They can raise their spines up when they are scared, or roll into a ball to defend themselves

Hedgehogs hibernate over winter

They are nocturnal (so come out at night-time)

Hedgehogs don't have lots of fleas!

Feed hedgehogs on cat food or biscuits, NEVER milk, bread or mealworms, even if they appear to like them.

Don't use slug-pellets (even wildlife friendly ones) as they make hedgehogs very ill

A hedgehog out in the day is in trouble and needs to be taken to a vet.
What other hedgehog facts can you find out? There are lots more that we could put here...
Craft ideas
There are lots of hedgehog crafts you could try at home. We're hoping to have a gallery of hedgehog crafts here to give children ideas about what they could do, so if you try any of them, do please send a picture.
Ideas:
Finger prints: use felt tipped pens to colour in one finger tip and print it on paper. Then use a pen or pencil to draw a nose and eye, like in the picture.

3D paper hedgehogs watch how on Youtube

plasticine hedgehog

pom-pom hedgehogs
Feeding hedgehogs
Did you know hedgehogs love cat food? They are also very thirsty, so always make sure that there is fresh water to drink. If you have a pond, put a ramp on one side so that they can climb out if they fall in.