HOME LEARNING HEALTH WARNING!
Times are hard for everyone, the most important thing is to look after your own mental health and help your family to do the same.
We will post enough work so your children can find tasks they'll enjoy - but we aren't expecting families to be doing all of it! Do what's right for you and your circumstances.
In terms of learning, the priority is to keep reading and number tasks going whenever you can, these things will make it easier to return to learning once school re-opens.
Year 4 Home Learning Week 8 (1.6.2020)
Hi Year 4!
I hope you had a wonderful half term. Just want to say a massive well done and thank you to you and your families for all of your resilience, hard work and creativity when learning from home during this time. Remember, if you have any questions or want to share some of your amazing work, please email me at yr4@beacon-ce-primary.devon.sch.uk and I can put it on the superstar page.
You may notice that I've laid out the work slightly differently than before. I have now combined reading and writing together under literacy and there will be five maths tasks with the answers already included. The idea is to do the activities in order as they do link. However, like before, please feel free to do whatever works best for you. There is also a mini topic and RE as well as computing and French from Miss Butcher. Remember, if you cannot print the work, don't worry, just do the task on paper instead.
Hope that you are all well and staying safe.
Mrs Lynn
RE
What kind of world did Jesus want?
French - likes and dislikes
Over the next few weeks we'll be learning to say what we like and don't like.
Watch the video here where Ben and his friends are painting a picture of where they live. They use the phrase 'j'aime le bleu' to say they like blue or 'je n'aime pas le marron' to say that they don't like brown etc.
Click on the sheet here to see more activities. To open it as a PDF,click on the picture.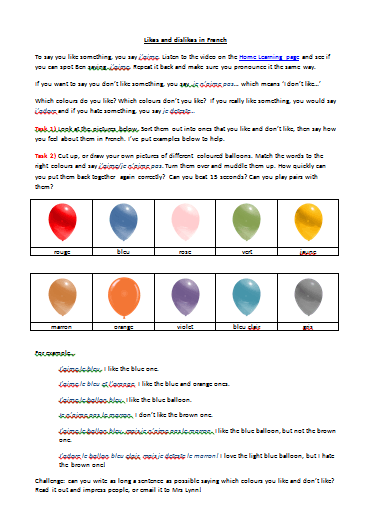 Computing
-What do you think the internet is?
– What devices are connected to the internet?
– Why are computers connected to the internet?
Watch this video to find out the answers.
Can you draw a diagram to show how your tablet or computer is linked to the internet? Is it connected to the router by a wire, or does it use wifi? Where is the router, and what is that connected to? Where does it go from there? Can you add in all the internet devices that you have in your household?