Hedgehog crafts
On this page you'll find lots of craft idea relating to hedgehogs. If you try any of them, we'd love to see how you get on. Send any photos or pictures to your teacher and they will pass them on.
How to draw hedgehogs:
copy these simple steps to draw your own hedgehog.
Corner Bookmarks
Follow the pictures below to make your own hedgehog bookmark. I didn't have any brown paper so had to colour mine in with pencils.
You will need two squares of paper or thin card, a pair of scissors and some glue to stick down the eyes and spikes.
Ideas for hedgehog crafts
Finger prints: use felt tipped pens to colour in one finger tip and print it on paper. Then use a pen or pencil to draw a nose and eye, like in the picture.

3D paper hedgehogs watch how on Youtube

plasticine hedgehog

pom-pom hedgehogs
Finger-print hedgehogs: how to create your own...
Doing some cooking?
You could make some hedgehog cup-cakes, decorating them with shavings of chocolate, or bits of chocolate flakes for the spines. You could even decorate some hedgehog biscuits.Have a look online for some amazing ideas and send in pictures of what you do!
Hedgehog biscuits.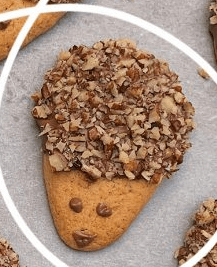 There are lots of different hedgehog biscuit recipes online. Here's one that you could try if you fancied it!
(Remember about internet safety: these websites aren't ones the school can control/make sure they're safe, even if when we recommend them they look fine.)